Many people open the medicine cabinet the instant a joint or muscle aches or the stomach hurts. Many over-the-counter and prescription medications  wreak havoc on the body. What helps your joint pain might make your gut scream hours later. Plants and herbs such at turmeric, ginger, and triphala, can offer relief without unpleasant side effects. I have been amazed how much better I feel now that I'm integrating them into my daily diet. Studies show they can improve health and reduce long-term suffering. It is very important to consult with your physician before taking herbs or stopping any current medications.
Three of my favorite herbs are turmeric (curcumin is the active ingredient), ginger, and triphala. I take triphala almost daily in tablet form and make tea with a blend of powdered turmeric and ginger.
Turmeric is an excellent anti-inflammatory and can be taken in a tea or in warm oil when joint or muscle pain strikes in lieu of taking medication. Some studies have even shown it can help alleviate arthritic pain and is protective against cancer.
Ginger is the perfect remedy for an upset stomach. It can ease nausea, morning sickness, and even reduce the misery of motion sickness and menstrual cramps. People often report it reduces post-exercise muscle soreness. Studies show the anti-inflammatory properties of ginger often reduces painful symptoms of osteoarthritis when taken internally or a paste including ginger is applied to the painful area. Ingesting ginger regularly may also lower cholesterol levels, stabilize blood sugar levels, and reduce the risk of cancer and Alzheimers.
Triphala contains three fruits found in India: Amalaki, Bibhitaki, and Haritaki. It is a gentle bowel cleanser that helps improve digestion, reduce stomach discomfort and contributes to regular bowel movements. Because it helps with food absorption, taking it regularly while eating a well balanced diet can ensure the body is getting adequate nourishment. Many regular users of triphala report healthy weight loss once their digestive systems get to a state of balance. Triphala is also a powerful antioxidant, which helps protect the body from free radical damage. Triphala can be taken in a tea or in tablet form.
Before going beyond sprinkling some of these on your meals, consult with a trusted physician or licensed naturopath. That person can ensure whatever herbs you're taking won't adversely interfere with any medications your taking. Once you've been given the green light, you'll find your body will respond much better to natural herbs. They improve health instead of simply putting a temporary bandaid on symptoms.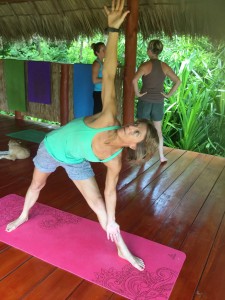 In June, I traveled to Big Corn Island, Nicaragua for a 200 hour Ashtanga Yoga Certification course with It's YogaNica. I joined Ainsley, Jon, Camilla, Rachel, and Megan for the three week course, which was taught by instructors Edwin and Kelli. I wanted to be able to add yoga to my fitness teaching credentials because I want to live more mindfully and help others do so as well. Every day, I practiced and lived the life of a yogi. Learning with the amazing and gifted students in the group was amazing. All of them are such special people and I will cherish the time I spent with them for the rest of my life. I also enjoyed daily early morning swims in the ocean. I swam during the sunrise and while most of the island was still sleeping. Those swims brought me so much serenity and peace. Swimming to me is meditation and in the calm, warm sea, I swam along, admiring colorful fish and coral and the occasional manta ray or nurse shark.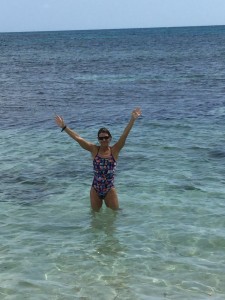 Over the course of the training, I became very in-tune with myself, learned how to better discipline my mind, and learned how to master most of the poses and to teach them effectively.  I walked away with so much more than a yoga certificate.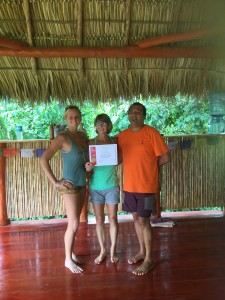 I left feeling that I had begun a journey into understanding myself and my life's purpose. In a different place, I began to break away from some of the samskaras or patterned thought processes that have been stealing my joy and keeping me from growing for too many years. It is very hard to break away from these patterned thoughts. I have many of these. Thoughts that I don't fit in, I'm not successful enough, that I'm a chronic headache sufferer. I want to see myself as a swimmer, a yogi, an author, a compassionate and loving person with a sense of adventure. I want to feel content with my life wherever I am. That's who I was during my yoga class in Nicaragua. After my return from Nicaragua, I saw myself starting to fall back into old patterns of thinking and it took some time to figure out how to break down those walls. I will share some of those thoughts in  blog posts and in my memoir, Journey to a Better Life, to be published in 2017. One of the most important I qualities that has been imperative to my learning journey is patience. Changing thought patterns is difficult. I didn't develop them overnight – they have been running wild in my head for years -and it takes time to change them. I have found for me the best mechanisms to break negative thought patterns are daily yoga practice and travel. I can reset my mind with meditation or yoga practice and I can often reset my mind with a change of scenery as well. In three days, I will travel to Mykonos, Greece to teach yoga classes for three weeks. There will be no past to confine me and day by day I will write the future I want to live. I will go to this far away place knowing that the people in the world that love me most understand my journey and are in my heart no matter how many miles separate us.