Sometimes teaching a class goes off without a hitch. There are other times when issues come off. For me, more often than not, they're technical. If it's not troubles programming the heating and cooling unit (I miss the old switches – heat/cool, and the dial that you adjust that points to the temperature you want), it's an issue with the stereo (or the device I'm playing music from). Sometimes I really miss the days where all I had to do was insert a cassette tape and start class. It was so easy. And I always had dubbed backups. Now I have to set the stereo to the proper mode, choose the playlist and hope that when I hit play, music starts playing. Recently, I had a situation where the music would play for about a minute and then stop. It wasn't as if I bought this iPad last week. I've owned this iPad Mini 4 (2015) for more than a year and have never had this problem before.
This drove me nuts. I tried to play a song again. Same thing.  At that point, I continued class without music. Afterward, I went online and started looking for suggestions on what to do. I tried closing all open applications, rebooting again, still nothing. Then I found a post that mentioned notifications as the possible culprit. I'm not a fan of those anyway. Whenever headline news flashes up on a notification, there is a temporary break in the music. And this is distracting.
I went into settings. And the list of items that had notifications defaulted to on were tremendous. App Store, Calendar, Calm App, FaceTime, Games, Home, Instagram…you get the picture. There were ten more. I turned notifications off on all of them and guess what? My music started playing normally again. I'm not sure which notification was the music-stopping offender. But I'm content for now to leave them off so my music plays uninterrupted AND I have less distraction.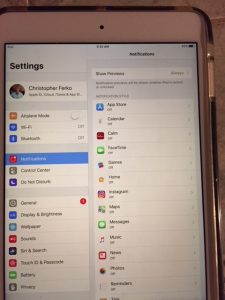 Ever since I've starting playing music in classes from my iPhone or iPad, I've been frustrated over being stuck with the original beats-per-minute. For years, I would pitch CDs up or down to get the count just right for different classes. For this reason, I found myself sticking to my old CDs whenever possible. When one of my work places removed the CD player once and for all, I knew I had to get more in-the-know about Apps. So I researched Apps that might help with this issue and decided to download BeatStep (cost is 12.99). I had some trouble finding it because another company, Arturia, has a program with the same name at the top of the search engines and is apparently designed for music studios rather than fitness instructors!
At first, I was a bit stymied by the App. After you load a play list and save it, whenever I tried to load a new one from my iPod library, it would ask if I wanted to remove the current songs and I worried I would lose my previous playlist or even the one in iTunes. Fortunately, when I queried BeatStep from their Facebook page, I learned this is not the case. I was also given a step by step explanation on how to load the new playlist and save it. This does not in any way alter your original iTunes playlist. Basically, you are importing it into the App and saving it as a different playlist that you must access from BeatStep.
BeatStep is very responsive to email or FaceBook correspondence. Here is a link to the BeatStep Facebook Page. The company also sent me a link to several You Tube  videos that outline the major features of the App. You can choose a set BPM for your playlist or a percent of original speed. If the program's calculation of the song's BPM is inaccurate, you can select the song and "tap out" the BPM so it resets to an accurate tempo. Here is a link to the You Tube training videos. Watching these videos really helped me get into the swing of using the App.
Once glitch I found with the App is that if you stop playing your music before the playlist ends and then start another class and start playing music, you may hear two songs playing at once. If this  happens, simply exit the program and start it up again (it just takes a few seconds) and you will be back to hearing only one song at a time.
I'm very particular about the music I use for classes. For this reason, I like to download individual songs and make them into playlists instead of buying pre-made mixes. This creates a problem when you want every song in your mix to have a similar BPM. I recently learned that by using the Tempo Planner add-on (cost 2.99 or request a code on the BeatStep Facebook page), you gain this versatility as well. To add on this feature, simply click on the star in the bottom left and enter the code. Now I can go to each song and determine BPM or percent of original song speed one at a time. It is useful to test this ahead of time to make sure the song doesn't sound terrible pitched up or down a lot.
I don't recommend downloading this App tonight and trying to use it in the morning. Give yourself a few days to get familiar with it so you feel confident and comfortable with it before you walk into class. With adequate preparation, BeatStep is a great program that can allow you to offer your students more music variety at a speed ideal for the workout you have planned. My students really appreciate that I've taken the time to assemble so many fun new playlists. Now I have New Age, Jazz, Dance and Rock, sometimes all in a single playlist and music that before was too slow to use for exercise is now accessible. I hope you enjoy using BeatStep as much as I do.
To me, one of my responsibilities as a certified personal trainer and group exercise leader is to demonstrate to partipants and clients the benefits of a healthy lifestyle. That means following the ACSM guidelines for health aerobic and strength exercise to maximize my cardiovascular and musculoskeletal health and eating healthy so I stay within healthy weight limits.
I'll be the first to admit that class participants have spotted me at the grocery with beer and ice cream in my shopping cart and that it made me feel a tad guilty. I will tell you that there were also healthy foods in there and that my diet philosophy is moderation, not obsession. At least one person a month usually asks me if I only eat raw vegetables, as if to look good you have to starve. Not! I eat whenever hungry and have maintained a weight 10-15 pounds less than when I was younger and trying all kinds of crazy diet plans. Experience and education have taught me that the best "diet" is one that includes a balance of the major food groups (with an emphasis on fruits and veggies) and minimizes processed foods high in fat and preservatives.
I most often go askew in good example setting with my athletic endeavors. As a nationally ranked competitive swimmer and occasional triathlete, I train numerous hours weekly in addition to teaching 7 or more fitness classes. I have to remind myself periodically that fitness is my career, whereas competitive athletics are only a hobby. When I keep my priorities in order, my competitive events and training don't adversely affect my work. The only two injuries I've ever had (a rotator cuff tendinitis and a sacro-iliac tendinitis) both occurred, not because of a fitness class, but because of training or competing outside of class. Especially now that I'm in my late 40s, I have to be more prudent than ever training and spend more time warming up, cooling down and stretching.
Below are things I've seen instructors do or heard about from class participants (they just love to talk, talk, talk, about us in the locker room) that are worth aspiring NOT to do:
1 – Instructor comes to class carrying a Big Gulp of soda. A water bottle would be better…
2 – Instructor tells class about getting drunk in a bar the night before. Keep it to yourself…
3 – Overweight instructor tells class she gained 20 pounds on month-long vacation. Again, keep it to yourself…
4 – Instructor arrives to class obviously sick (coughing, sniffling, etc.) If at all possible get a sub, but I know from experience sometimes this is nearly impossible and someone has to teach the class, right? OK, so in a pinch, take some really good cold medicine first?
5 – Instructor arrives to class slightly limping (Yes, this has been me after a half marathon or a couple of weeks ago when I challenged my husband to a 3 mile race – I'm still working on my area of weakness 🙂 ) But what I and you should do is follow that RICE formula we preach to others and get someone to cover until the injury's better.
6 – Instructor wears baggy clothes and constantly talks about how fat she is when she's practically wasting away. Silence! It will make your class participants feel bad about themselves when someone so obviously thin or underweight is so self-critical.
7 – Instructor wears clothing that is ripped, dirty or too revealing. Fitness attire should always look neat and professional (one time I arrived to class wearing a red-rimmed Nike Vomero on the right foot and a blue one on the other – Oops).
As fitness professionals, we have the opportunity to be living examples that exercise works – it makes you feel great, look great, and have a better quality of life. By "practicing what we preach," we enhance our influence and our credibility.
I once worked at a fitness facility with a women who smoked right before she taught her classes. That always really bothered me, someone who stood up as a role model in front of others walking into her class with the smell of smoke on her breath, practically advertising that the healthy lifestyle she preached about wasn't the one she actually led. Although I consider myself an exemplary role model for health and fitness, I still find it beneficial to give myself a periodic evaluation to see if there is room for improvement.