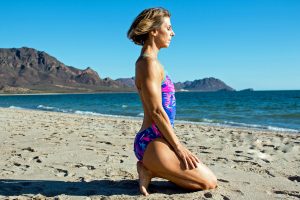 An intention or Sankalpa (resolve) is a positive statement, usually beginning with "I am," "I feel," or "My true nature is." This affirmation, resolve, or heartfelt desire should be short, in the present tense, positive, and feel attainable.
Below are a few examples…
I am calm
I am content
I am grateful
I am enough
I am at peace
I am innately kind and compassionate
I am present in the moment
I am at one with humanity
I am listening to my body
I feel connected to my Divine nature
I feel God's presence
My true nature is loving
Now to explain the difference between the intention that we use in yoga and a Sankalpa that is used in Yoga Nidra or deep meditation. An intention during yoga is something you focus on when you are awake and alert during your practice. The primary benefit is that it keeps your mind from wandering so much. During Yoga Nidra, a Sankalpa is repeated three times at the beginning and the end of the practice. In this case, you are operating in a state between waking and asleep where your subconscious is active and you have access to memories from recent all the way into distant past. In this space, you have more power to transform destructive thinking patterns to ways of thinking and living that better serve your emotional and physical well-being.
Many people have been able to let go of destructive habits – such as overeating, alcohol and drug abuse, as well as uncomfortable mental states – such as depression, anxiety, and insomnia – through meditation practices. f you want to begin reaping the benefits of Yoga Nidra, you can dowload the Insight Timer app on your smartphone. There are many free Yoga Nidra scripts you can listen to for free. Establish a resolve you can work with until it feels like it is well-established in your life. At that stage, you can progress to another one.
Many people start a new year, making a resolution to exercise more. And that's a very smart decision because regular exercise can do a lot to improve your health and mental outlook. What works for me and for many is to choose enjoyable activities. If it's fun, you're more like to keep doing it, right?
My passion is for the water and so most days, I can't wait to get in the water! I walk down to the Sea of Cortez and savor my swimming experience for an hour, sometimes longer. Whether in the pool or the sea or ocean, I love the feel of the water rushing by me, the feel of propelling myself through the water. I like the solitude, the silence, the escape that I experience, which helps me clear my head of clutter and distress.
I love the multisensory experience sea swimming – smelling and tasting the salt, spotting sardines, sea bass, and stingrays – and on the most amazing days, encountering my dolphin friends. There's a pod of 11 or more bottle-nose dolphins who often propel themselves underneath me with their powerful flukes or glid around me, sometimes in circles. Occasionally, a dolphin friend will come up nose to nose and nod or even make sounds for me. Clicks, chirps, and other calls.
The photo here is of me finishing an 1800-meter swim this past September in Miramar, near Guaymas, Mexico. Click here to see a short YouTube video clip of me wetsuit swimming. Water temperatures vary from the mid-50s F up to the low-90s, depending on the season, so I rang in the New Year wetsuit swimming since the water is quite chilly in the winter, even south of the border in San Carlos, Mexico.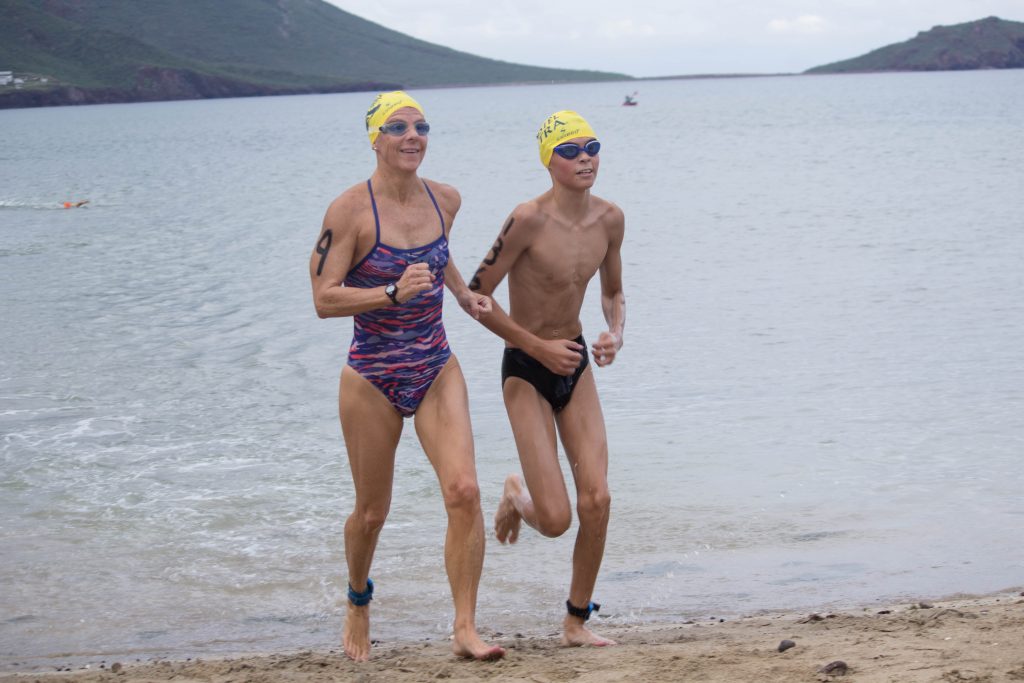 Finding enjoyable exercise is one of many helpful recommendations I offer in my Fitter Than Ever at 40 and Beyond book. Stop making resolutions and quitting them two weeks later and embark on a journey of healthy living. Let 2020 be the year you succeed! If you haven't read Fitter Than Ever yet, click here to pick up a paperback or here for the Kindle edition.