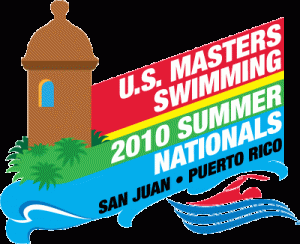 I'll be flying to Puerto Rico for the U.S. Masters Swimming Long Course Nationals this weekend and I couldn't be more excited about embarking on another vacation of fitness and fun. When I'm not competing in this championship event (which will include swimmers 18 to 90-something), I'll be meeting new friends and reuniting with old ones, learning salsa dance moves, taking in the local sights, and enjoying the local food (and drink).
I'm especially looking forward to the the 1500 meter open water swim at Ocean Park, where I hope to see (but not necessarily get too close to) some marine life along the way. I'm also excited to be swimming in this super-fast pool, which is modeled after the 1996 Atlanta Olympic Natatorium at Georgia Tech. I'm anticipating putting some lifetime bests up on the scoreboard to prove to myself and others that at 47, I'm fitter than ever.
Why do I choose to be super active when I travel? The answer's simple. I can't leave the house without getting dressed and brushing my teeth. Nor would I start my day without exercising first. Swimming and other activities soothe my mind, stimulate my thoughts, and give keep that passion for life running through my blood. I can already hear the echo of people cheering, imagine that rush of water I'll feel when I plunge from the starting blocks into the cool race-temperature water, and feel the skin-tingling adrenaline rush I'll feel after swimming each race all-out and then seeing my name up on the scoreboard.
With U.S. Masters pool meets and open waters being held all over the country (go to usms.org), there's ample opportunities to plan a swimming vacation.
I love competition because an event on the calendar serves as an incentive to push myself harder. And I thrive off the sheer excitement of racing. But there are people of all personalities Masters swimming. You don't have to love to compete or even to be fast. Masters swimming is for anyone who wants to improve their fitness level, lose weight, feel better, enjoy training with the camaraderie of others, or just hang out! So don't be afraid to get into the competitive scene out of fear you won't be good enough. Swimmers are a super friendly community of people! If you just show up, you'll be warmly welcomed.